Olive Garden Manager Fired Over Harsh Time Off Policy
December 10, 2022
This article is from Do You Remember. Click the title to hop over there.
One big problem managers face in every company is handling staff lateness and absence at work, as most employees come up with different flimsy excuses. Recently a seemingly frustrated Olive Garden manager in Overland Park, Kansas, was fired after sending a jarring message to the employee who requested time off.
"We are no longer taking ANY excuse for calling off," the manager made a stance against flimsy excuses in her message. "If you're sick, you need to come prove it to us. If your dog died, you need to bring him in and prove it to us. If it's a 'family emergency,' too bad. Go work somewhere else."
The Olive Garden manager forwards harsh emails to employees
According to the report, she sent out a harsh memo to employees due to inadequate staffing. The message, which the news outlet obtained, detailed the manager telling the staff to find another job instead of asking for a leave.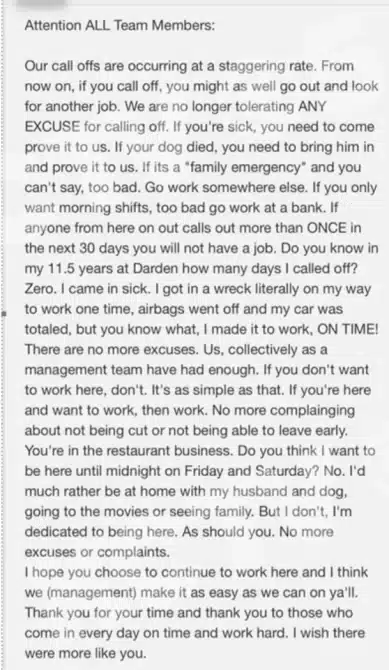 "Our call-offs are occurring at a staggering rate," the manager threatened. "From now on, if you call off, you might as well go out and look for another job." Her message ended with an appreciation to the staff who come into work promptly every day.
The Olive Garden Manager says she shows up at work every day
The top officer further explained her work ethic and how she never called in late, even when her car broke down on her way to work
"Do you know in my 11.5 years at Darden how many days I called off? Zero. I got in a wreck literally on my to work one time, airbags went off, and my car was totaled, but you know what, I made it to work, ON TIME!" she revealed."Us, collectively, as a management team, have had enough."
Restaurant Management distances itself from Manager's comments
However, as a way to save face for the company, the restaurant representative told the news outlet that the message was not in adherence with the company values and policies on employees' welfare, and the manager no longer works for them.
"We strive to provide a caring and respectful work environment for our team members. This message is not aligned with our company's values. We can confirm we have parted ways with this manager."
The post Olive Garden Manager Fired Over Harsh Time Off Policy appeared first on DoYouRemember? – The Home of Nostalgia. Author, Peace A