John Travolta Joined By Kids In Wishing Fans A Merry Christmas In Rare Family Video
December 28, 2022
This article is from Do You Remember. Click the title to hop over there.
John Travolta traditionally maintains a barrier of separation between his personal and private life. This holiday weekend, however, he was joined by his children, 22-year-old Ella and 12-year-old Benjamin, to create a sweet Christmas video.
Ella and Benjamin are Travolta's kids with his late wife Kelly Preston, who died in 2020 at the age of 57. Her death is part of why Travolta favors privacy, especially for Ben, to whom he had some mature talks about life and death. But this past week, the family was together, cuddled close, both feeling the holiday spirit and extending it to fans. Check out the sweet video below!
John Travolta recruits his kids to wish everyone a Merry Christmas
View this post on Instagram
On Monday, while businesses observed the Christmas holiday after the official date Sunday, Travolta took to Instagram to share a family video. It features him crouched between Ella and Ben, holding the new family dog Mac N Cheese. Everyone's attire is festive in a different way. Ella has on a classy red top perfect for the holiday. Travolta is seen favoring thick layers, bundled against the cold. Ben is keeping it casual with a comfortable t-shirt for a day of fun at home.
"Merry Christmas everyone," Travolta captioned the post. The short video then shows the family saying just that to his 4.6 million Instagram followers and more. Looking at the den, it seems like the Travolta family is all set for their own happy Christmas, complete with a richly-decorated tree and plenty of enticing gifts left to unwrap.
Much has changed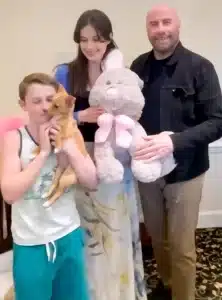 Change has been an intermitted constant for the Travolta family by the time this Christmas video went up. For one thing, Mac was rechristened to Peanut. But on a more somber note, this marks the third Christmas without Preston. During their first without her in 2020, Travolta shared a video then too, with Ella and Ben extending warm holiday wishes, coupled with the caption, "Merry Christmas from the Travolta family!"
Back in November of 2020, as the holiday season gained momentum, Travolta also took to Instagram to share a video expressing his gratitude for the support he received through the difficult loss. "I just want to take this moment to thank each and every one of you for supporting me in such an incredible way this year," he said, before wishing fans a happy Thanksgiving.
The post John Travolta Joined By Kids In Wishing Fans A Merry Christmas In Rare Family Video appeared first on DoYouRemember? – The Home of Nostalgia. Author, Dana Daly