Bruce Willis And Demi Moore Share Rare Reunion Photo With Daughter Tallulah
December 9, 2022
This article is from Do You Remember. Click the title to hop over there.
From 1987 to 2000, Demi Moore and Bruce Willis were a married couple. The two are now split, with Willis now married to model Emma Heming, but they are still part of a big blended family. Recently, Moore and Willis reunited and spent time with their youngest daughter, Tallulah.
Together, Willis and Moore are the parents of three daughters: Rumer, born in '88, Scout, born in '91, and Tallulah, born in '94. Willis also has two daughters with Emma: Evelyn and Mabel. The family also got to spend time quarantining together during the coronavirus lockdown. But a reunion like in the photo below is especially rare and adorable. Check it out!
See a photo of Bruce Willis, Demi Moore, and Tallulah reunited
View this post on Instagram
Earlier this week, Tallulah took to Instagram to share a photo of herself and parents Willis and Moore. She captioned the post, "the laser beam communication between Pilaf and Papa is stunning," referring to the pet chihuahua. "I love my parents and my family – I do I do I do!" It's a sentiment visible in the looks both Tallulah and Pilaf wear.
The photo itself shows Moore with an arm wrapped around Tallulah, who in turn is cuddling happily with Pilaf while Willis smiles on. Everyone is dressed in comfortable flannel layers, cozy against the encroaching winter chill. Some doggy cuddles help with that too!
Still a family
Moore and Willis first met at a Stakeout premiere party in '87. At the time, both had been with different respective dates but it was Willis who broke the ice asking Moore for a drink together. Willis had not yet been married then but Moore was first married to musician Freddy Moore. She was then married to Ashton Kutcher from 2005 to 2013.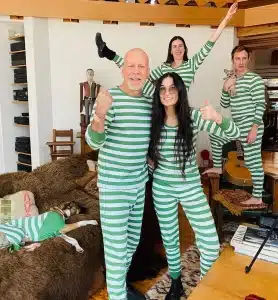 As for Tallulah, she's following in mom and dad's footsteps and became an actor herself. Some of her credits include The Whole Ten Yards (2004), Bandits (2001) and The Scarlet Letter (1995). Tallulah was among the many family members who posted a supportive announcement when Willis retired from acting. The whole time, she's been showered with praise from her many fans!
The post Bruce Willis And Demi Moore Share Rare Reunion Photo With Daughter Tallulah appeared first on DoYouRemember? – The Home of Nostalgia. Author, Dana Daly